Visiting astronauts inspire Namibian youngsters
Xinhua | Updated: 2019-08-28 09:15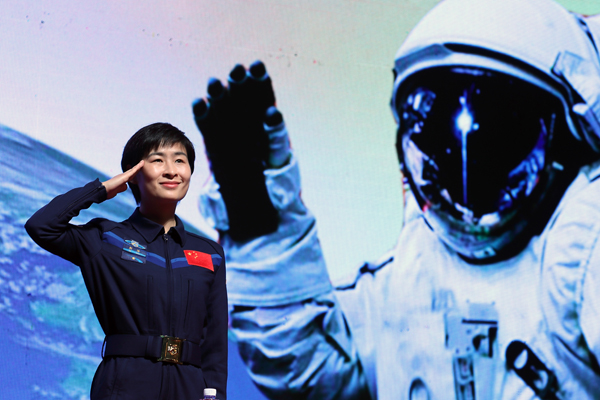 SWAKOPMUND, Namibia-"Who was the first astronaut in space? Who was the first astronaut landing on the moon? Who was the first Chinese astronaut?" a group of visibly excited students asked.
These were just some of the questions raised by students at a recent aerospace science and technology interactive event with visiting Chinese astronauts at Namibia's Space Telemetry, Tracking and Command Station in the coastal town of Swakopmund.
Metumu Nomvula Tjimune, a grade 12 student at Westside High School, said she was very pleased to see the astronauts from China.
"I like Liu Yang. As a woman, she can match any man. She shows what she can do, which means we can make it, too," Tjimune said.
Liu Yang, China's first female astronaut in space, and her colleague Chen Dong arrived in Namibia's port town of Walvis Bay on Aug 19, starting their five-day visit to the southern African nation at the invitation of President Hage Geingob.
Chinese Ambassador to Namibia Zhang Yiming said the visit was aimed at enhancing communication and cooperation on astronautics between China and Namibia.
Zhang said that during the Namibian president's state visit to China last year, Geingob had visited the Beijing Aerospace Control Center, interacted with three Chinese astronauts and invited Chinese astronauts to visit Namibia.
"During the visit, the delegation will pay a courtesy call to President Geingob, meet local middle school learners at Space TT&C Station, and talk with students face-to-face at the Namibia University of Science and Technology," according to Zhang.
Although this is her first trip to Namibia, Liu said she is no stranger to the country.
"When I was serving on Tiangong-1, I flew over Namibia many times. I knew there is a Space TT&C Station based here, and I'm grateful to be here," said Liu.