Rekindling childhood memories for the young at heart
By CHEN NAN | China Daily | Updated: 2019-08-28 07:47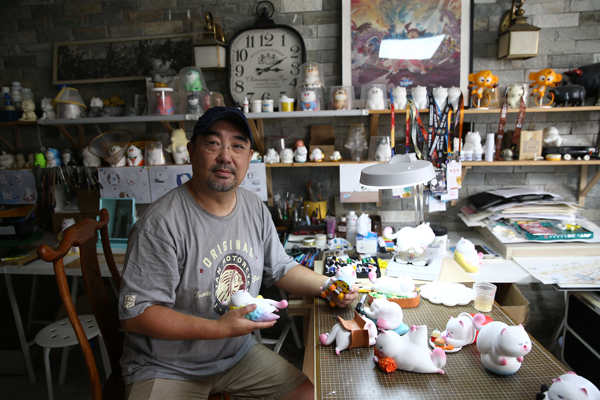 Entering Guo Bin's home is like stepping to a wonderland, an enchanted place of the imagination. The first thing you notice are the toys, from stuffed animals to cartoon figures, in various sizes. They immediately grab your attention. One of them, a white fat cat with a long tail and pink arms and legs, seems to demand a nod of approval from any guest.
About 1-meter-long and made of resin, the cat is lying on its stomach and has narrow, piercing green eyes. A fish bowl, menacingly empty, rests under his belly.
The cat, called Vivicat, is one of Guo's favorite characters, which he created and released as a toy series.
"I released the first series without any idea if people would like it or not. The first day when I brought the toys to the Shanghai Toy Show in April, no one came to my booth during the first hour after it opened. I was frustrated," recalls the round-faced designer, sitting in his studio-cum-home in Hebei province's Yanjiao area that borders Beijing's Tongzhou district.
"However, it soon changed and an hour later my booth was surrounded by people.
"Many of the toy buyers told me they liked the cat's appearance, color and range of poses."
Guo, 50, is a teacher at the animation department of the Central Academy of Fine Arts in the capital, where he studied sculpture till 1995.He's also one of the designers signed to Pop Mart, a Beijing-based company, which designs and produces art toys.
His first Vivicat series, titled Lazy Sit, released during the toy show in Shanghai, saw 2,000 of the toys sold in three days. They each cost 69 yuan ($9.6). The first series had 10 Vivicats, with each sitting in different poses, such as watching TV on a sofa, hiding in a baseball glove or glued on a big fish.
During the recent Beijing Toy Show, he released the second series of the cats, titled Lazy Lie Prone (flat on the stomach). These were 10 new toy cats in various positions, such as lying on a computer or lying in a lunch box while eating French fries and a burger.
Guo says he plans to release the third series, called Lazy Sprawl.
Vivicats portray an ideal lifestyle, relaxed and being lazy, he says.